Programs and Strategies
The consumption of food, water, and consumer goods implies significant GHG emissions. The College is committed to reducing wasteful consumption wherever possible. Some reductions come from changing the production or purchasing processes. Other reductions rely on education campaigns to change habits of students, staff, and faculty. Past initiatives include:
Continuation and expansion of campus-wide recycling containers.
Implementation of a single stream recycling effort and education program/recycling website.
Use of recycled paper in towel dispensers.
Installation of scrap dumpster for metal scrap collection.
All green material from campus is sent to a composting facility versus including it in the trash stream.
Using drought-resistant grass, shrubs and trees to reduce watering requirements.
Using native planting materials that do not require special treatments to thrive in the environment.
Host America Recycles Day activities annually to raise awareness towards TCNJ's recycling program.
Developed recycling educational programs including Welcome Week bags containing recycling flyers in student resident rooms; "TCNJ Recycling" as part of Welcome Week, and all Residential Education staff receiving website training for TCNJ's recycling program.
For more information about TCNJ's effort at recycling and waste reduction, and for information about how you can reduce your waste and recycle more, visit TCNJ's Recycling site.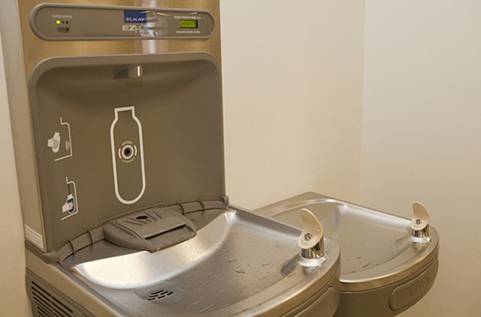 The College is installed hydration stations in various locations on campus to reduce the usage of water in recyclable plastic bottles. On February 12, 2016 a hydration station was installed in Eickhoff Hall which saved over 235 plastic water bottles from being used within the first week of its installation. The campus community is encouraged to actively participate in this initiative with Hydration Stations located in Eickhoff Hall, Norsworthy, and the Brower Student Center.